Exchanges at the Montana Capitol
February 25, 2009
Shahid Haque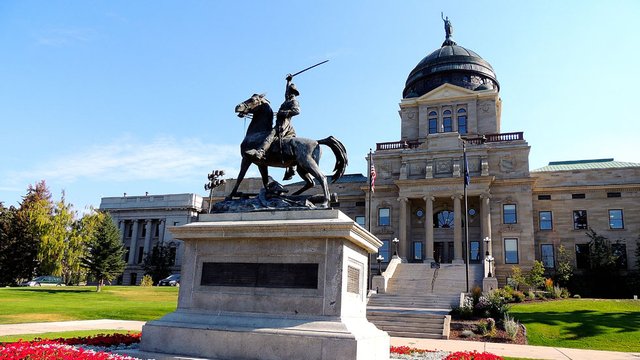 Jamee Greer, a progressive lobbyist and all-around good guy, has a great post about an interesting exchange that occurred in the Montana Legislature last week between Representative David Howard (the sponsor of three anti-immigrant bills that were tabled) and Representative Tim Furey. He posts about it at his blog:
I thought I'd share some of the quotes from Rep. Howard, and much like last time, I'll point out the good with the ugly."Now the reason for this bill is very simple. If you look at states like Colorado, who have not watched their licenses, you have almost ninety percent of all the sheetrock contractors are illegal aliens. You have almost one hundred percent of the contractors that do yards and clean up and everything, are illegal aliens. I want to create a deterrent so Montana isn't a state we wanna come fill up with illegal aliens.""I was on a business trip to Las Vegas, and I was really stunned that while I was driving into where I was gonna do some training, and at a corner where they had a Safeway, there was over a hundred and fifty people there, all illegal aliens, obviously, and the contractor trucks were driving up and picking them up."While Rep. Howard's comments were offensive, Representative Tim Furey (D-HD 91) nobly tried to point out that you cannot make rash judgements on someone's status based on conjecture, or hearsay.Rep. Furey: "When you were in Las Vegas, and you saw one hundred people on the street corner, how did you know that the one hundred people you saw were 'illegal aliens'?"Rep. Howard: "I was with a contractor, doing a contractor seminar. And he was telling me that that was what was happening. He was showing me and telling me that that was actually cheating other young Americans that wanted jobs, out of jobs, because those were contractor jobs and they had the ability to pay them half as much and not pay them workers comp. Actually, in real true sense, they were taking advantage of the unauthorized alien."Rep. Furey: "So nobody checked their IDs? Just the fact that they looked like they were 'illegal aliens'?"Rep. Howard: "No they didn't. I was being told that they were, by a contractor who had been doing this for twenty five years."
This was one of many exchanges that occurred both last week and this week that highlight one of the biggest problems with state enforcement of immigration laws. Even as he defended legislation that would would result in rampant racial profiling, Representative Howard couldn't help but make baseless assumptions about people's immigration status. He basically made our point for us.Thanks to Representative Furey for pointing this out, and thanks to Jamee Greer for posting about it.