Elie Wiesel: "No Human Being is Illegal"
February 27, 2009
Shahid Haque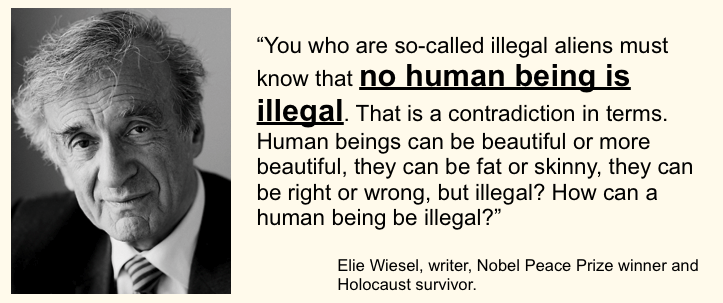 There is little doubt that in the last few years, we have seen an upswing in anti-immigrant sentiment. For those of us who spend every day fighting for immigrant rights, it can be a disheartening battle. In difficult times, I find comfort in quotes about immigration that help to put our problems in perspective. They remind us that our battles are not new ones, and that we have endured even worse periods in our country's history. As I am reminded of these quotes, I will be posting them on this blog. Hopefully you, too, will find comfort in the wisdom of these quotes.One of today's most popular and powerful quotes is credited to Elie Wiesel, the writer, Nobel Peace Prize winner and Holocaust survivor:
You who are so-called illegal aliens must know that no human being is 'illegal'. That is a contradiction in terms. Human beings can be beautiful or more beautiful, they can be fat or skinny, they can be right or wrong, but illegal? How can a human being be illegal?
Coming from a Holocaust survivor who witnessed the worst in humanity, these words are extremely potent. This quote is the rallying cry for those of us who believe that the term "illegal alien," or referring to human beings as "illegal," is dangerously dehumanizing.