Senior ICE Official in Montana Advocated Racial Profiling of Muslims, Was Suspended Pending Investigation
January 19, 2012
Shahid Haque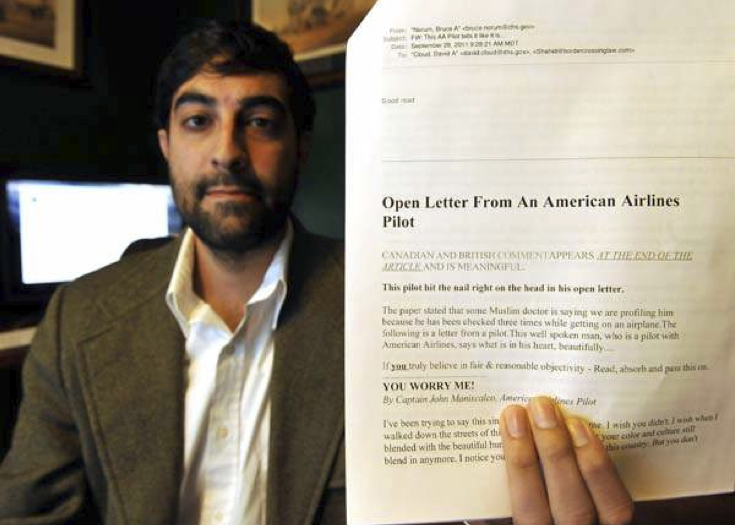 Towards the end of last year, things became very busy for the firm, and for me in particular. Many things happened that I would have liked to share, but I couldn't find the time for it. I will attempt to go back and post some notable events from the past year, as well as update this blog more regularly.
Last October, I became involved in an effort to draw attention to serious abuses committed by Bruce Norum, who was the most senior official in Montana working for Immigration and Customs Enforcement ("ICE"). At that time, Bruce Norum was the Supervisory Detention and Deportation Officer for the state. In that capacity, he made final decisions regarding who should be detained, whether or not an immigrant should be released pending court hearings, what bond amount should be set, and other important determinations regarding immigrants under ICE scrutiny.On September 28, 2011, during working hours and from his ICE e-mail account, Mr. Norum forwarded an e-mail to another ICE agent and myself, recommending it as a "good read." The e-mail plainly advocated racial profiling of Muslims, and asked for a form of loyalty test to be administered before a Muslim should be afforded basic due process.Some statements from the e-mail included:
I've been trying to say this since 911, but you worry me. I wish you didn't. I wish when I walked down the streets of this country that I love, that your color and culture still blended with the beautiful human landscape we enjoy in this country. But you don't blend in anymore.. . .

It is not MY responsibility to determine which of you embraces our great country, with ALL of its religions, with ALL of its different citizens, with all of its faults. It is time for every Arab/Muslim in this country to determine it for me.

I want to know, I DEMAND to know and I have a right to know, whether or not you love America …. Do you pledge allegiance to its flag? Do you proudly display it in front of your house, or on your car? Do you pray in your many daily prayers that Allah will bless this nation; that He will protect it and let it prosper? Or do you pray that Allah with destroy it in one of your Jihads? Are you thankful for the freedom that this nation affords? A freedom that was paid for by the blood of hundreds of thousands of patriots who gave their lives for this country? Are you willing to preserve this freedom by also paying the ultimate sacrifice? Do you love America? ? If this is your commitment, then I need YOU to start letting ME know about it.

. . .

I want to see Arab-Muslims waving the AMERICAN flag in the streets. I want to hear you chanting 'Allah Bless America'.. I want to see young Arab/Muslim men enlisting in the military. I want to see a commitment of money, time and emotion to the victims of this butchering and to this nation as a whole.The FBI has a list of over 400 people they want to talk to regarding the WTC attack. Many of these people live and socialize right now in Muslim communities. You know them.

You know where they are. Hand them over to us, NOW!. . .We will NEVER allow the attacks of September 11, or any others for that matter, to take away that which is so precious to us — our rights under the greatest constitution in the world. I want to know where every Arab Muslim in this country stands and I think it is my right and the right of every true citizen of this country to DEMAND it.
It was shocking and appalling to receive this message from Mr. Norum for many reasons.I am a Pakistani-American who was raised in a Muslim household. Mr. Norum was well aware of my race and ethnicity, as we had met in person many times in an official capacity. As I practice solely immigration law, I routinely represent immigrants (including Muslims) facing the threat of deportation in Mr. Norum's jurisdiction. By sending this message to me, it appeared that Mr. Norum may have been trying to question my loyalty to the United States, and use his position of authority to intimidate me.Furthermore, the fact that Mr. Norum would forward this e-mail from his government account, during work hours, seriously called into question all decisions he has made in his official capacity. The views he advocated run directly contrary to the Constitution he was sworn to uphold. Indeed, the e-mail even implies that Muslims cannot be "true citizens" of the United States.I immediately filed complaints with the civil rights and professional oversight divisions of the Department of Homeland Security ("DHS"). I also contacted reporter John S. Adams regarding this matter, and a story was printed in the Great Falls Tribune on October 9, 2011. Around the same time, I was contacted by Mr. Norum's direct supervisor, who is based out of Salt Lake City, Utah. He informed me that he was taking the incident extremely seriously, and was taking immediate action. Mr. Norum was quickly suspended from duties, pending an investigation. I was grateful for the prompt attention that was given to this matter. You can find a follow-up story from the Great Falls Tribune, containing more details.
Since then, I spoke with investigators from ICE "internal affairs" and I understand that their investigation finally concluded at the end of November 2011. At this time, I am not aware of the results of the investigation.After Mr. Norum was relieved of duties, he was replaced. I have had very positive dealings with his replacement, as well as other Department of Homeland Security officials in Montana. Thus far, I am pleased that I have not experienced any harassment or retaliation as a result of this matter.Based on his clearly bigoted views, I do not believe that Mr. Norum has any credibility to serve within the Department of Homeland Security, and certainly not in a supervisory role. It is my sincere hope that Mr. Norum is permanently relieved of duties. One thing is certain — if he returns to work, he will be met with fierce opposition.I will keep you posted as more information comes to light.