Bill Sponsored by Gary L. Perry Specifically Targets Immigrant Children For Deportation
February 7, 2009
Shahid Haque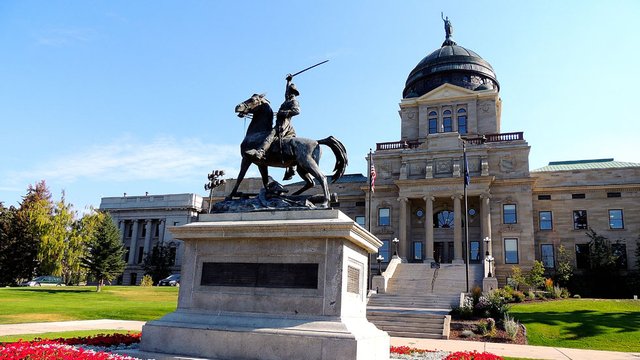 On this blog, we have been discussing anti-immigrant bills proposed by Montana legislators. One of the most shocking bill draft requests is LC0559, which would target immigrant youth who are in shelter care facilities. The bill's stated purpose is to verify the alien status of prisoners, but in actuality it does much more than that. The law would require youth probation officers to inform the Department of Homeland Security of any children who don't have documents to prove lawful status. Upon request, the officers would turn the youth over to the federal authorities to initiate removal proceedings.
In its beginning provisions, the bill requires law enforcement to contact the Department of Homeland Security and check into the immigration status of anyone in temporary custody who is charged with a felony or for driving under the influence, "if the lawful alienage of the inmate cannot be determined from documents in the possession of the inmate at the time of the arrest or while incarcerated."
Law enforcement would be required to contact the Department of Homeland Security "within 48 hours of the beginning of confinement, or a shorter period of time before the inmate is released pending initial appearance, hearing, or trial . . . " If an inmate is determined to lack lawful status, they are to be turned over to the federal authorities.
Contrary to federal law, the proposed bill would create a presumption that an alien who is not lawfully present in the United States is a risk of flight. Therefore, it would make it extremely difficult for the individual to be released on bond. Under federal law, an alien "generally is not and should not be detained or required to post bond" unless it is determined that the individual is a threat to national security or is likely to abscond. See Matter of Patel, 15 I&N Dec. 666 (BIA 1976); Matter of Daryoush, 18 I&N Dec. 352 (BIA 1982).
As discussed above, however, the most objectionable part of this bill is the fact that it specifically targets immigrant children for removal.
The law states that all youth who cannot provide documentation of lawful status must be reported to the Department of Homeland Security regardless of whether any offense has been committed. This makes the law relating to immigrant youth even more harsh than that applied to adults.
Let us be clear that the bill does not only target youth who are involved in delinquent behavior. The bill requires a youth probation officer to check into the immigration status of any youth who is in a "detention center, youth assessment center, or shelter care facility." Shelter care facilities include "youth foster homes, kinship foster homes, youth group homes, youth shelter care facilities, child-care agencies, transitional living programs, and youth assessment centers." MCA §§ 52-2-602(11); 41-5-103(40); 41-5-347.
This means that children in foster care will be reported to the authorities and potentially deported, without having ever committed any kind of crime. Youth are typically placed in foster care when they have no one else to care for them. Deporting children to the custody and care of other countries, to be dependent upon the potentially inadequate care of the social programs in these countries, should not be a high priority for the state.
Strangely, the law prohibits the Department of Justice from implementing the regulations relating to youth, leaving implementation solely to youth probation officers. Perhaps Mr. Perry is attempting to take authority away from the Department of Justice because these provisions conflict with existing laws regarding treatment of youth in custody. See MCA §§ 41-5-331; 41-5-322; 41-5-323.
The presumption that would limit the availability of bond appears to be applied to youth as well. Therefore, this statute changes current law on release of youth offenders. Present law states that "[w]henever a peace officer believes, on reasonable grounds, that a youth can be released to a responsible person, the peace officer may release the youth to that person upon receiving a written promise from the person to bring the youth before the probation officer at a time and place specified in the written promise, or a peace officer may release the youth under any other reasonable circumstances." See MCA §§ 41-5-322, 41-5-323.
This bill imposes a presumption that anyone whose immigration status doesn't check out is a risk of flight. That would potentially take discretion away from a peace officer to make his or her own determination regarding bond.
It is shocking that Mr. Perry has sponsored a bill that specifically targets children for removal.
I urge you to contact your local representatives, as well as Mr. Perry, and voice your opposition to this bill.